Jump to navigation
Jump to search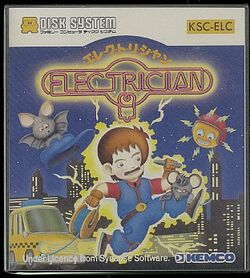 Electrician is an action game designed and developed by David Bunch, and published by Synapse Software for the Atari 400, 800, and XL line of home computers. It was sold on a disk along with another Synapse title, New York City - The Big Apple. A Japanese company Kemco was licensed the rights to port and publish the game in Japan on the Family Computer Disk System. A number of changes were made to the game to accommodate the hardware capabilities, but it remained roughly the same as the original.
You play the role of an Electrician whose job it is to rewire all of the electricity in eight buildings. Each building is a vertically scrolling stage with a number of pests making their way throughout the crawl space where you must attempt to complete all of the wiring. Until a floor is completely wired, the pests can chew through the lower connections which feed into the ceiling, which you must then repair. In later levels, bats and electrical surges join the scene to make life even more difficult.
Once a building is entirely wired, the electrician must navigate from one building to the next by way of a horizontally scrolling sewer stage. The sewer consists of multiple levels, including a water filled basement level with a canoe, and each level contains ladders and brick walls. Although you are equipped with a flashlight, you must get close to the wall to see that your path is blocked, and you must find an alternate route to the next building. Alligators lumber through each of the levels.
Original bugs
[
edit
]
Versions of this game for the Atari home computer that are found on the internet contain bugs which will prevent most players from completing the game. There are issues concerning entering the eighth building, and collecting the eighth key if it is contained in building 7 or 8. In September 2008, Atari Age forum member Fandal was able to correct these bugs in the original software and released a corrected version of the game, which can be found here.
Table of Contents