Jump to navigation
Jump to search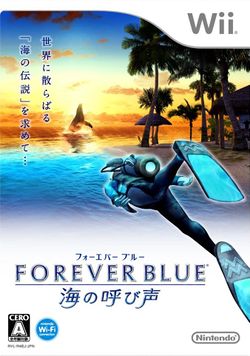 Endless Ocean 2: Adventures of the Deep, known in Japan as Forever Blue: Umi no Yobigoe (Forever Blue 海の呼び声, Forever Blue: Umi no Yobigoe? lit. Forever Blue: Call of the Ocean) and North America as Endless Ocean: Blue World, is a scuba diving game for the Wii, and the sequel to Endless Ocean. It was first revealed at a Nintendo conference held on October 2, 2008. It was released in September 2009 in Japan, and was released in February 2010 for the rest of the world.
Endless Ocean 2 features improved graphics and larger explorable areas than the previous game. In contrast to Endless Ocean, which featured a single location, Endless Ocean 2 allows players to travel to six different diving spots around the globe, including new polar and river locations. The plot of the game involves a woman named Oceana and her search for an artifact called the Dragon Stone, but players will be able to ignore it or follow it at their leisure.
The ability to dive with a dolphin as a companion returns from the first game, and players will now also be able to ride them to quickly move through the water. Players can also sell salvaged treasure for money that can be used to buy items to decorate reefs and aquariums. Potentially dangerous creatures such as sharks and crocodiles will now illicit a warning for players and may even attack them; players will be able to drive them off using a new tranquilizer-like tool called the Pulsar which calms them down.
The game features online co-operative multiplayer that allows communication using the Wii Speak peripheral. As with the first game, players will also be able to take pictures during their dives, which they can now save to an SD card.
Table of Contents