Jump to navigation
Jump to search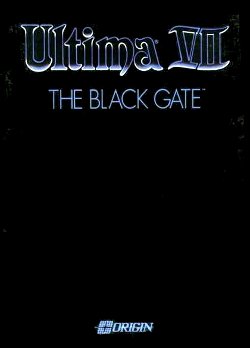 | | |
| --- | --- |
| Genre(s) | RPG |
| Players | 1 |
| Modes | Single player |
| Rating(s) | "Voluntarily rated MP-13 (For Mature Players)" |
This guide is for the MS-DOS version. For the SNES (and PSP) action-adventure remake, see Ultima: The Black Gate.
Ultima VII: The Black Gate was a landmark title in the Ultima series. It is widely held as one of the best in the series (along with Ultima IV: Quest of the Avatar and Ultima VI: The False Prophet).
After being taunted by a mysterious being who calls himself Guardian, a moongate appears. The Avatar arrives back in Britannia once more, and is immediately confronted with a grisly murder. As he investigates he discovers this is more than just a simple murder. The world is changed from his last visit: magic is failing and unpredictable, the moongates are malfunctioning, and in fact the whole land is in danger of falling prey to the Guardian.
The game was quickly followed by the Forge of Virtue expansion disk which added the Isle of Fire, and the following year the pseudo-sequel Ultima VII Part Two: Serpent Isle was released.
In 1994 an action-adventure remake (titled Ultima: The Black Gate without numeral) was released for the Super Nintendo, replacing murders with kidnapping and adopting many gameplay elements from Ultima: Runes of Virtue 1 & 2. In 2006 this version was released for the PlayStation Portable as part of EA Replay.
Table of Contents
3. Margareta's quest
4. The final act