Jump to navigation
Jump to search
Mute City - Twist Road
[
edit
]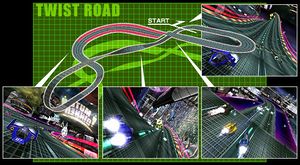 Difficulty:
Course Length: 7910m
Prominent Features: 180° loop, 180° corkscrew
Staff Ghost: 00'59"964
Music: For the Glory/Mute City
As the opening course of the Ruby Cup this is, perhaps, the easiest course in the game (even on Master difficulty). From the start is a small right-hand turn followed by a brief straight. This leads into a lazy hairpin that can be taken at full throttle, even with the dash plate present. Exiting the turn you find yourself on another brief straight with a dash plate leading to a short hop to a lazy left-turn flanked with long, wide pit areas.
As you head out of pit row, there is a 90° right turn. Though it's the sharpest turn on the Twist Road circuit, it's fairly wide and can often be taken at top speed. This turn leads directly into a 180° loop that quickly becomes a 180° corkscrew featuring two dash plates. Despite the fact that this section of the track is in a corkscrew shape, it is still a straight and a great place to make heavy use of boosters.
Casino Palace - Split Oval
[
edit
]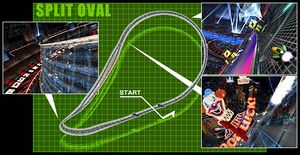 Difficulty:
Course Length: 8490m
Prominent Features: Backstretch fork, 90° corkscrew
Staff Ghost: 00'56"691
Music: Shotgun Kiss
There's nothing fancy about this course. The Split Oval was designed for pure speed, and you'll be spending most of your time here with the throttle open all the way. A machine with high boost capabilities can easily leave its competition in the dust.
From the start, you enter into a very wide and lazy 180° left turn. This turn is littered with dash plates. The dash plates appear in this order: [M]iddle, [L]eft, [R]ight, [L], [R], [L], [M]. If you can't weave back-and-forth to maximize the number of dash plates you hit, sticking to the left (inside) will not only reduce the distance you have to travel, but also offer three dash plates instead of the two along the right side.
On the backstretch straightaway, the road forks. The left side contains a pit area while the right side contains four dash plates ([R], [L], [R], [R]). The two forks converge just before the final 180° left turn which features two more dash plates ([R], [L]). As this section also corkscrews 90° to the right, you will need to watch your speed through the turn to avoid flying off the track. At speeds of 2700 km/h or more, however, it is possible to launch off of the track and control your flight to shave time off you your run. This technique is is very difficult, and may only be possible through the use of snaking. After the turn, there is only a short straight leading back to the goal line.
Sand Ocean - Surface Slide
[
edit
]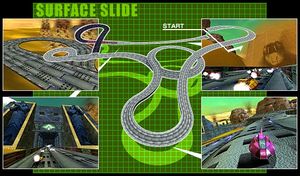 Course Length: 13160m
Prominent Features: Numerous hairpin turns, narrow straights
Staff Ghost: 01'56"743
Music: 8 Guitars
Lightning - Loop Cross
[
edit
]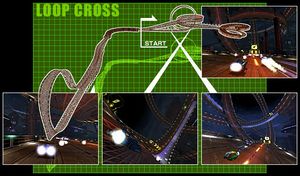 Course Length: 13270m
Prominent Features: 360° loop, hairpin/spiral turns
Staff Ghost:
Music: Osc-Sync Carnival
Aeropolis - Multiplex
[
edit
]