Jump to navigation
Jump to search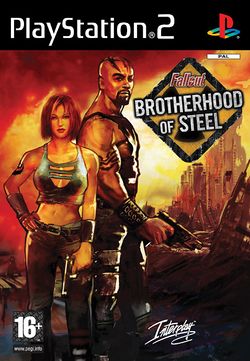 This guide is for the action game. For the tactical RPG, see Fallout Tactics: Brotherhood of Steel.
Fallout: Brotherhood of Steel is an action game developed and produced by Interplay for the Xbox and PlayStation 2. Released on January 13, 2004, BoS is the fourth video game to be set in the Fallout universe and the first to be made for consoles.
Background
[
edit
]
Fallout: Brotherhood of Steel takes place after the Great War, which destroyed much of the United States. The player character is named the Initiate, a member of the Brotherhood of Steel, a faction operating in the former state of Texas. The Initiate can be one of three characters, Cain, Cyrus, or Nadia, who have all pledged their allegiance to the faction. The group is tasked with eliminating several threats in the surrounding area.

Table of Contents