Jump to navigation
Jump to search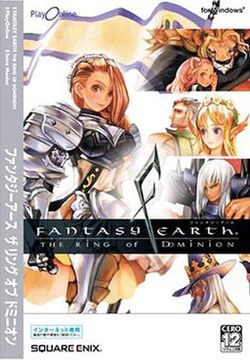 Fantasy Earth: Zero (ファンタジーアース ゼロ, Fantasy Earth: Zero?), formerly known as Fantasy Earth: The Ring of Dominion, is a MMOG developed by Fenix Soft (the original developers, Multiterm, were absorbed into Fenix Soft on September 1, 2007).
Several months after the release, Square Enix canceled the game because of severe lack of demand. The publishing rights to the game were later bought by Gamepot, where the game has enjoyed much greater success as they dropped the subscription based element present when under Square Enix's PlayOnline service, and became a "Free to Play" game. Having recently announced over 9,300,000 users. Revenue is generated using an in-game currency known as "orbs" which are purchased using real money, and can purchase items only obtainable using orbs.
Gamepot Japan established an IP block preventing players outside the region from playing.
The game started beta testing on February 23, 2006 and was re-released by Gamepot Japan on November 2, 2006. On April 3, 2007 Fantasy Earth started beta testing in China (Mainland). On June 3, 2008 it started the beta test in Taiwan.
US players were finally able to get in on the action when Fantasy Earth Zero was announced by Gamepot USA on January 12, 2010. The first Open Beta for Fantasy Earth Zero in the US began on March 3, 2010 and ended on March 10, 2010. Players who participated in a Kingdom War in the first OB were eligible to receive a "Limited Edition" weapon in the 2nd Open Beta. The second Open Beta started on March 17, 2010. Fantasy Earth Zero was officially launched in the United States on May 18, 2010.
Table of Contents