Jump to navigation
Jump to search
This is the first game in the Far Cry series. For other games in the series see the Far Cry category.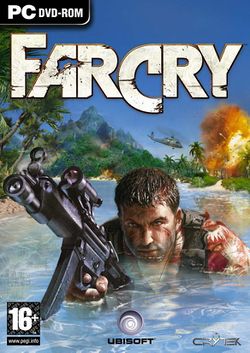 Far Cry is a first-person shooter video game developed by Crytek Studios from Germany and published by Ubisoft on March 23, 2004 for Microsoft Windows. Far Cry sold 730,000 units within four months of release and has sold, as of January 2009, 2.9 million copies worldwide. It received positive reviews upon release, and critics labeled it as one of the best first-person shooters for PC. The original game has since spawned several console ports and a movie.
The game's story follows an ex-U.S. Special Forces operative Jack Carver, who is stranded on a mysterious archipelago. He is searching for a female journalist he was escorting after she went missing when their boat was destroyed by mercenaries. The game includes thematic elements relating to the dangers of weaponizing genetic engineering and the genocide of local islanders as can be seen by the deformed creatures created by a mad scientist named Krieger.
The terrain in Far Cry varies greatly. Set on a South Pacific archipelago, the landscape includes beaches, dense rain forests, towering canyons, mines, swamps, and even volcanic forests. Many of the interiors range from simple beach huts and army camps to elaborate complexes, an underground temple, and ultra-modern research labs. Several of these mazes use the remains of Japanese WWII-era fortifications and bunkers.
Table of Contents