Jump to navigation
Jump to search
Click here for more information about Terry's other fighting game appearances.

Terry Bogard (テリー・ボガード) is an American fighter and the older brother of Andy Bogard. He is often referred to as the Legendary Hungry Wolf (from Garou Densetsu, meaning Legend of the Hungry Wolf).
Story (in Fatal Fury: Wild Ambition)
[
edit
]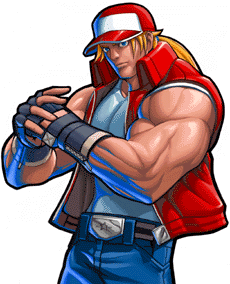 Terry is the most respected, feared, admired, loved, and hated fighter you could possibly imagine in Southtown. His legend lives forever as a fighter with strong skills, solid moves, and a kind heart. He is not only known in Southtown, but in the whole world. Along with his dear brother Andy and friend Joe, the Lone Wolf aims to establish a new legacy in the world of fighting.

Throw

| | |
| --- | --- |
| Buster Throw | (close)+ |

Neck Hanging
Crusher
(close from behind)+
Command Move

Neck Breaker
Drop
(while dashing)+

| | |
| --- | --- |
| Backspin Kick | + |

| | |
| --- | --- |
| Fire Kick | + |

| | |
| --- | --- |
| Jumping Knee Kick | + |

| | |
| --- | --- |
| └►Power Dunk | |
Special Move

| | |
| --- | --- |
| Power Wave | + |
Special Move

| | |
| --- | --- |
| Rising Tackle | + |