Jump to navigation
Jump to search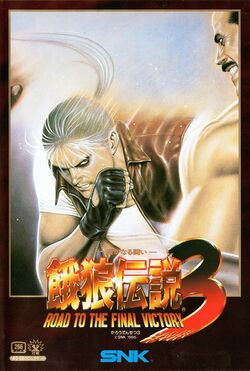 Fatal Fury 3: Road to the Final Victory chronicles the story of Ryuji Yamazaki and the Jin brothers (Chonshu and Chonrei) and their attempt to gain control of the 3 sacred Hidensho scrolls, which are supposed to grant immortality.
It features 5 characters returning from previous Fatal Fury games and 5 new characters plus 3 boss characters. One of the returning characters is Geese Howard, who has survived his canonical death in Fatal Fury.
In the single-player mode, the player will have a choice between four characters as their first opponent (Joe, Mary, Bob and Franco), after defeating the first, the player will fight the remaining three in no particular order. After the first four opponents are defeated, the player will fight against Ryuji Yamazaki for a plot-based match in which the player must win only one round. The player will then proceed to fight against Mai, Andy, Hon-Fu, Sokaku, Terry and Geese in that order.
At the end of each round, the player is given a grade (from E to A and S) based on their performance. If the player manage to maintain a high average, then they will face against Ryuji again in a full match and then against Chonshu and Chonrei in that order.
Fatal Fury 3 is the only canonical Fatal Fury game that does not feature a King of Fighters tournament.
Table of Contents
Remakes & Compilations
Appendices
Achievements and trophies
Character Select
[
edit
]