Jump to navigation
Jump to search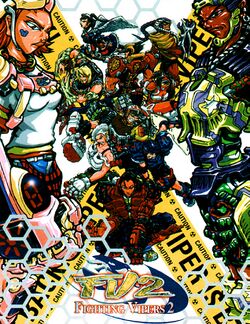 Fighting Vipers 2 was the sequel to Sega's sleeper arcade hit, Fighting Vipers. It was released for Japanese arcades in 1998 with the Sega Model 3 hardware. It was later released on the Sega Dreamcast with a Japanese and European release in 2001.
A North American release for Fighting Vipers 2 was originally planned, but cancelled.
2 years has past since the hot battles at the tower... The City is still under the dictatorship of the mayor. With growing hatred against the Vipers who stood against him, he proposed a municipal bylaw for the "Viper Hunt", and enforced it. Many vipers were arrested and thrown into jail, the rest who escaped, hid themselves and removed their armors. There were few who would not give in to the mayor's oppression, and would continue to fight. Here begin the hot battles of the last Vipers...
Table of Contents