Jump to navigation
Jump to search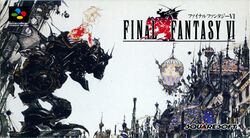 Independent wikis with more information:
Final Fantasy VI is a game in the Final Fantasy series. At the time, three of the five preceding games in the series had not been released in the US, so it was released in the U.S. as Final Fantasy III. With the release of Final Fantasy Anthology it has been correctly renumbered as the sixth game for all regions.
One of the most notable and identifying elements within the game is the presence of powerful beings called Espers.
"The ancient War of the Magi...
When its flames at last receded, only
the charred husk of a world remained.
Even the power of magic was lost.

In the thousand years that followed,
iron, gunpowder, and steam engines
took the place of magic, and life slowly
returned to the barren land...

Yet there now stands one who would
reawaken the magic of ages past,
and use its dread power as a means
by which to conquer all the world...

...Could anyone truly
be foolish enough
to repeat that mistake?"

Table of Contents
Equipment
Abilities