Jump to navigation
Jump to search
A tough explanation
[
edit
]
Firion and company, along with Leon, will return to Fynn. Upon seeing Leon, Hilda will demand to know what has happened. Firion will explain that the Emperor has returned from hell. Maria explains how Ricard sacrificed himself so that they could escape. Then she recounts all the others who have passed trying to aid them. Leon will then agree to join your team at Maria's request.
Return to the audience chamber and speak with Princess Hilda. She will mention the term Jade Passage which you can choose to learn. If you ask Hilda, Gordon, and Leila, you can piece together that the Jade Passage is essentially found in a small lake to the east of Mysidia. When you exit from Fynn Castle, you will find Cid's airship waiting for you outside.
Leon the black knight
[
edit
]
Leon's default weapons are an axe and a sword. Despite his proficiency, if you've stuck to the default weapon specialties for the main chatacters, give the best the axes to Guy and the best swords to Firion. Equip Leon with the next best axes and swords, or give him the best staves and spears, that would be otherwise unused.
Detailed analysis of Leon's weapon skills:
Axes L9: it's better to leave the axes to Guy, who can make better use of the white-spellcasting Rune axe;
Swords L8: it's better to leave the swords to Firion, who can make good use of the black-spellcasting Masamune sword;
Spears L7: after Leon joins you, soon a white-spellcasting Holy spear will be found, although Leon is more proficient with Black magic;
Staves L6: you should already own two black-spellcasting Mage's and Wizard's staves plus a Healing staff, so this is the choice;
Daggers L5: none have special effects, so ignore them;
Slings L4: it's better to leave the bows to Maria;
Shields L3: every character should use a shield to improve his/her evasion;
Karate L2: this is Leon's lowest skill, ignore it.
Equip Leon with a few black and a few white spells, just to improve his spell casting abilities related to the special weapons he can use.
Excalibur (weapon)
[
edit
]
Optionally, before heading to the Jade Passage you may first want to return to Castle Deist to obtain a sword called Excalibur. It is the second most powerful sword in the game.
Speak with Elina in Castle Deist and ask her about Dragoons. She will thank the party for allowing her to see Ricard one last time and will hand them the sword.
The Jade Passage
[
edit
]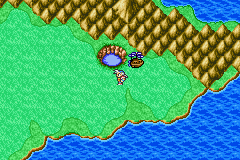 Hop in the airship, and make your way to the Mysidia region. Sure enough, if you travel east from the town, and just a bit north, and follow the land as it juts out into the ocean, you will eventually notice a small lake near the end of the land mass. Land your ship and step towards the lake to enter the Jade Passage. Once inside, you will be facing, quite naturally, the toughest enemies you have faced so far.
Pandaemonium
[
edit
]
You've reached the castle of Hell known as Pandaemonium. As the final dungeon of the game, you will be facing the most powerful creatures that the game has to offer. Among the strongest that you should watch out for are the Death Riders. They sometimes appear with other enemies such as Devil Mantises, or a Mythril Golem, but they should always be your first targets, as they can do well over a thousand hit points of damage with a single hit. They happen to be weak against Fire, so use a high level Fire spell if you have one available.
If you successfully defeat the Emperor in battle, you will then be presented with the ending and the credits. Congratulations.