Jump to navigation
Jump to search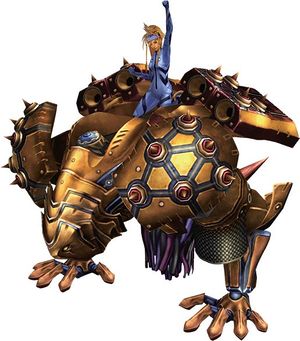 Rikku's special dressphere. When activated, Yuna and Paine temporarily flee. This dressphere allows Rikku to transform into a one man, "three-member party" for devastating attacks. The complete path of a Garment Grid must be traveled during a battle in order to have the option to summon this sphere, so it is best used with a small grid such as Unerring Path. Each section is well balanced. Each can cause damage as well as inflict status ailments. The left and right sections have the ability to heal both HP and MP to successfully sustain Rikku for quite a while. Note that in order to complete this sphere to 100% two key items must be obtained.
Obtained by - Obtained while investigating the Oasis in Chapter 2 during the mission to collect Leblanc Syndicate uniforms.
Machina Reactor and Machina Booster
[
edit
]
Two key item need to be collected in order to learn Break HP Limit and Break Damage Limit.
Machina Reactor is found in a chest near the lift to the Youth League headquarters at Mushroom Rock Road during Chapter 5
Machina Booster is obtained by dispatching 3 of each level of chocobos from the Chocobo Ranch successfully as well as having all runners leveled up to 5. After this task is completed, Clasko will report that the chocobos have found a secret dungeon in the Calm Lands. The chest with this item is found there.
Attributes
[
edit
]
| Attribute | Increase | Attribute | Increase |
| --- | --- | --- | --- |
| HP | | MP | |
| Strength | | Magic | |
| Defense | | Magic Def. | |
| Agility | | Accuracy | |
| Evasion | | Luck | |
Commands
[
edit
]
Machina Maw
Attack
Machinations
Revival
Vajra
Smasher-R
Homing Ray
Smash
HP Repair
MP Repair
Crusher-L
Homing Ray
Crush
HP Repair
MP Repair0
Abilities
[
edit
]
Machina Maw
Name
AP
MP
Description
Requirements
Attack
0
0
Attack one enemy
None
Revival
10
0
Revive one KO'd character
None
Death Missile
0
12
Instantly defeat one enemy (sometimes fails)
None
Bio Missile
0
12
Inflict damage and Poison on one enemy
None
Break Missile
0
12
Inflict damage and Petrification on one enemy
None
Berserk Missile
10
12
Inflict damage and Berserk on one enemy
None
Stop Missile
10
12
Inflict damage and Stop on one enemy
Berserk Missile
Confuse Missile
10
12
Inflict damage and Confusion on one enemy
Stop Missile
Shockwave
20
36
Damages all enemies
None
Shockstorm
20
36
Damages all enemies and delays their actions
Shockwave
Vajra
30
0
Damages all enemies
Shockstorm
Ribbon
0
0
Guards against all status ailments
None
Double HP
20
0
Doubles max HP
None
Triple HP
30
0
Triples max HP
Double HP
Break HP Limit
20
0
Allows max HP to exceed 9,999
Machina Reactor
Break Damage Limit
20
0
Allows max damage to exceed 9,999
Machina Booster
Smasher-R
Name
AP
MP
Description
Requirements
Howitzer
0
12
Damages one enemy
None
Sleep Shell
10
12
Inflicts damage and Sleep on one enemy
None
Slow Shell
10
12
Inflicts damage and Slow on one enemy
Sleep Shell
Anti-Power Shell
10
12
Damages one enemy and lowers its Strength
Slow Shell
Anti-Armor Shell
10
12
Damages one enemy and lowers its Defense
Anti-Power Shell
Scan
10
0
View detailed information about one enemy
None
Shellter
20
10
Casts Shell on the party
None
Protector
21
10
Casts Protect on the party
Shellter
HP Repair
0
0
Restores HP to one character
None
MP Repair
0
0
Restores MP to one character
None
Homing Ray
0
0
Damages one enemy
None
Ribbon
0
0
Guards against all status ailments
None
Double HP
20
0
Doubles max HP
None
Triple HP
30
0
Triples max HP
Double HP
Break HP Limit
20
0
Allows max HP to exceed 9,999
Machina Reactor
Break Damage Limit
20
0
Allows max damage to exceed 9,999
Machina Booster
Crusher-L
Name
AP
MP
Description
Requirements
Howitzer
0
12
Damages one enemy
None
Blind Shell
10
12
Inflicts damage and Darkness on one enemy
None
Silence Shell
10
12
Inflicts damage and Silence on one enemy
Blind Shell
Anti-Magic Shell
10
12
Damages one enemy and lowers its Magic
Silence Shell
Anti-Mental Shell
10
12
Damages one enemy and lowers its Magic Defense
Anti-Magic Shell
Booster
20
30
Casts Haste on the party
None
Offense
20
10
Raises one character's Strength
None
Defense
20
10
Raises one character's Defense
Offense
HP Repair
0
0
Restores HP to one character
None
MP Repair
0
0
Restores MP to one character
None
Homing Ray
0
0
Damages one enemy
None
Ribbon
0
0
Guards against all status ailments
None
Double HP
20
0
Doubles max HP
None
Triple HP
30
0
Triples max HP
Double HP
Break HP Limit
20
0
Allows max HP to exceed 9,999
Machina Reactor
Break Damage Limit
20
0
Allows max damage to exceed 9,999
Machina Booster