Jump to navigation
Jump to search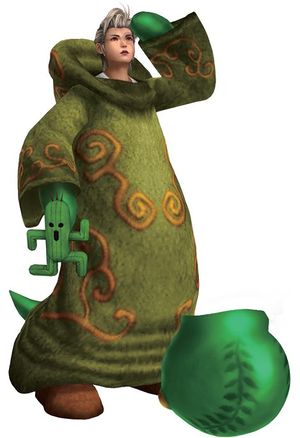 The Mascot is the Gullwings Prized Garment. You may have had a chance to view Yuna's during Chapter 1 if you visited Luca. Yuna's is modeled after a Moggle, Rikku's is modeled after a Cait Sith, and Paine's is modeled after a Tonberry. This sphere is considered one of the best. It allows the user to learn a series of unique abilities as well as equipping the abilities of two other dresspheres. It own attacks are balanced between physical and magical attacks as well as support spells.
Obtained by - Awarded in Chapter 5 for acquiring Episode Complete in every area except Bevelle. Complete each area and then board the Airship Celsius. An extra scene will play in which the girls receive their costumes. Note however that if Zanarkand is completed last (before Bevelle, obviously), there is a game glitch and the sphere may not be awarded. Best to begin with Zanarkand before completing other areas just to be safe.
Attributes
[
edit
]
| Attribute | Increase | Attribute | Increase |
| --- | --- | --- | --- |
| HP | | MP | |
| Strength | | Magic | |
| Defense | | Magic Def. | |
| Agility | | Accuracy | |
| Evasion | | Luck | |
Commands
[
edit
]
The main commands vary depending on the character using the dressphere.
Attack
(Mascot)
(Secondary Attack Abilities)
(Secondary Magic Abilities)
Item
Abilities
[
edit
]
Yuna
Moogle
Name
AP
MP
Description
Requirements
Attack
0
0
Damages one enemy
None
Moogle Jolt
40
0
Restores MP to one character
None
Moogle Cure
0
10
Cure one character of status ailments and restore HP
None
Moogle Regen
0
18
Casts Haste and Regen on one character
None
Moogle Wall
0
18
Casts Shell and Protect on one character
None
Moogle Life
0
40
Revives one KO'd character and fully restores HP and MP
None
Moogle Curema
40
15
Restores HP and cures the party's status ailments
None
Moogle Regenja
40
24
Casts Haste and Regen on the party
None
Moogle Wallja
40
24
Casts Shell and Protect on the party
None
Moogle Lifeja
40
60
Revives all party members and fully restores HP and MP
None
Moogle Beam
80
99
Damages one enemy
SOS Protect[1]
Ribbon
999
0
Guards against all status ailments
SOS Protect[1]
Auto-Shell
80
0
Automatically casts Shell
None
Auto-Protect
80
0
Automatically casts Protect
Auto-Shell
Swordplay
80
0
Use Warrior skills
None [2]
Arcana
80
0
Use Dark Knight Skills
None[2]
Rikku
Cait Sith
Name
AP
MP
Description
Requirements
Attack
0
0
Damages one enemy
None
Cait Fire
0
12
Inflicts fire damage and sometimes Poison/Petrification to enemies
None
Cait Thunder
0
12
Inflicts lightning damage and sometimes Poison/Petrification to enemies
None
Cait Blizzard
0
12
Inflicts ice damage and sometimes Poison/Petrification to enemies
None
Cait Water
0
12
Inflicts water damage and sometimes Poison/Petrification to enemies
None
Power Eraser
40
12
Lowers Strength of all enemies
None
Armor Eraser
40
12
Lowers Defense of all enemies
None
Magic Eraser
40
12
Lowers Magic of all enemies
None
Mental Eraser
40
12
Lowers Magic Defense of all enemies
None
Speed Eraser
40
12
Lowers Evasion of all enemies
None
PuPu Platter
80
48
Instantly defeats all enemies (sometimes fails)
SOS Protect[1]
Ribbon
999
0
Guards against all status ailments
SOS Protect[1]
Auto-Shell
80
0
Automatically casts Shell
None
Auto-Protect
80
0
Automatically casts Protect
Auto-Shell
Instinct
80
0
Use Berserker skills
None[2]
White Magic
80
0
Use White Mage skills
None[2]
Paine
Tonberry
Name
AP
MP
Description
Requirements
Attack
0
0
Damages one enemy
None
Dark Knife
0
10
Inflicts damage and Darkness on one enemy
None
Silence Knife
0
10
Inflicts damage and Silence on one enemy
None
Sleep Knife
0
10
Inflicts damage and Sleep on one enemy
None
Berserk Knife
0
10
Inflicts damage and Berserk on one enemy
None
Poison Knife
0
10
Inflicts damage and Poison on one enemy
None
Stone Knife
0
10
Inflicts damage and Petrification on one enemy
None
Stop Knife
0
10
Inflicts damage and Stop on one enemy
None
Quartet Knife
0
10
Lowers one enemy's Strength, Defense, Magic, and Magic Defense
None
Arsenic Knife
0
10
Instantly defeats one enemy (sometimes fails)
None
Cactling Gun
80
99
Inflicts heavy damage on one enemy
SOS Protect[1]
Ribbon
999
0
Guards against all status ailments
SOS Protect[1]
Auto-Shell
80
0
Automatically casts Shell
None
Auto-Protect
80
0
Automatically casts Protect
Auto-Shell
Bushido
80
0
Use Samurai skills
None[2]
Black Magic
80
0
Use Black Mage skills
None[2]