Jump to navigation
Jump to search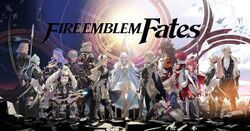 Fire Emblem Fates (ファイアーエムブレム if, Faiā Emuburemu Ifu?) is a tactical role-playing video game developed by Intelligent Systems and published by Nintendo for the Nintendo 3DS. It is the fourteenth game in the Fire Emblem series. The game was released on June 25, 2015 in Japan, and was released on February 19, 2016 in North America, available both at retail and digitally through Nintendo's Nintendo eShop.
The "Avatar" system returns from previous titles in the series, allowing the player to create and customize their own playable character; however, for the first time in the series, the Avatar character is the main protagonist of the story. The Avatar is a prince or princess of the kingdom of Nohr who discovers that they were actually born in the rival kingdom of Hoshido to their royal family, and was abducted by Nohr's forces at a young age. With tensions mounting between the two kingdoms, the Avatar is forced to choose which kingdom, and which family, their loyalties lie with.
The game was released in two versions, each following a different story based on the Avatar's decision. Fire Emblem Fates: Birthright has the Avatar siding with Hoshido against Nohr, and features gameplay more similar to the previous installment, Fire Emblem Awakening, with grinding allowed between story chapters and simpler, more straightforward mission objectives. By contrast, Fire Emblem Fates: Conquest has the Avatar siding with Nohr against Hoshido, and has greater difficulty, with more varied mission objectives and no grinding allowed. Both versions can also be purchased as a DLC add-on for the other version, allowing both paths to be played with one cartridge. There is also a third story path, Fire Emblem Fates: Revelation, which was released later and is only available as a DLC add-on for the other two versions, or in a special edition that includes all three paths. Revelation has the Avatar refusing to side with either kingdom, and eventually uniting both against a hidden greater threat.
Table of Contents