Jump to navigation
Jump to search
Journey
[
edit
]
The journey here will be no different than the previous journeys. However, instead of the six armed flying demon that protects the final key panel, you will meet a different flying demon. He flies a little more directly toward you, but he is no more difficult to defeat than usual. The medicine bottle hidden in this stage is found closer to the end. If you're having trouble keeping your health up through the boss fights, be sure not to fight any more thugs and attract another boss until you manage to reach the medicine bottle.
There are a number of Juan panels for you to find along the way on this section of the journey. You only need to (and only can) find two of them. But there are many opportunities in case you miss earlier ones.
Tournament
[
edit
]
Zongerian
[
edit
]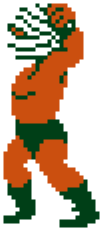 Zongerian is a professional wrestler with a good ability to defend against your attacks. You'll have to be persistent and chip away at his health. He does present you with an opportunity to throw you every once in a while, but it is more important to defend against his powerful attacks, including his jumping knee attack. Every once in a while, you may notice a failure for the red target to appear. This lack of an indication is actually an indication of his next attack, a grab move that can cause a lot of damage. If you happen to notice that the target has not appeared, quickly jump out of the way, either away from him or over him, to avoid being grabbed. If you are grabbed, quickly rock the control pad left and right to escape him. If you do not do this quickly enough, you will be thrown for a good amount of damage.
Fighter X
[
edit
]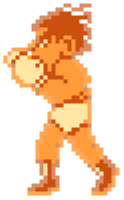 Fighter X is a boxer. As such, he is incredibly fast, and has a rather far reach. He can often hit you at from a distance that you would normally miss from. Don't let that stop you from defending his attacks. For all his speed and reach, he's not particularly strong, but he is difficult to hit. Also due to his speed, the target will begin to move around a little bit more quickly, forcing you to keep up with his high reaction speed. He won't provide you with an opportunity to throw him very often, but he is a little more susceptible to some of your special attacks. Don't let his hopping around fool you.
Koukunsai
[
edit
]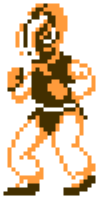 Koukunsai is the title holder of Elimination Round B. He is a tough and serious fighter, and will use every known technique to defeat you. You might be inclined to fight him normally, but if you found enough Juan panels throughout your Journey, Juan will inform you that Koukunsai is no ordinary fighter; he is another one of the Tusk Soldiers. He offers you interesting advice: Don't attack him. Simply defend against his attacks, and when the time is right, strike his weak point.
It turns out that if you don't attack Koukunsai long enough, and block all of his attacks, a red star target will appear on him, indicating that you can knock him out with one blow. If you manage to hit it, he will not be knocked out. Rather, he will transform into the second Tusk Soldier that you must defeat in order to obtain a secret scroll. This Tusk Soldier will be no different than the last one. Watch out for the low projectile attacks that he can send at you. When he jumps back to perform a Hiryu no Ken attack on you, jump to get away from it, either forward or back. Rely on your Crescent Waves to make short work of him, and obtain the second stolen scroll; the Hiken no Sho, which will increase the power of Ryuhi's Crescent Waves.