Jump to navigation
Jump to search
This is the first game in the Forza Motorsport series. For other games in the series see the Forza Motorsport category.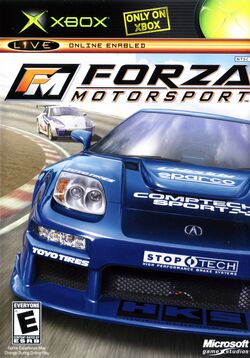 Forza Motorsport is a racing simulator on the Xbox, released in 2005. It is the inaugural game of the Forza Motorsport series, which has continued onto both the Xbox 360 and Xbox One.
Forza Motorsport has a total of 231 cars available in career mode, featuring a wide variety of road cars and track cars. The selection goes from everyday road cars such as a Honda Civic to rare supercars such as a Ferrari Enzo, as well as racing prototypes such as the Porsche 911 GT1. All of the road cars can be upgraded and customized if they are owned in career mode. However, this can not be done with track cars.
The game has a large career mode in which players earn credits and unlock cars by winning championships. Cars can be brought at any time with credits, but some are locked until certain conditions are met. Players increase their level by earning credits, with Level 50 being the maximum. Also, the way certain cars are unlocked is influenced by the "region" that is selected at the start of the career; this can be either North America, Europe, or Asia.
Forza Motorsport mainly focuses on circuit racing, but also features point-to-point tracks in a more prominent way than the later games in the series. It also features a higher amount of street tracks than the later games in the series. Some of the circuits included are real world tracks, such as Laguna Seca, Silverstone, Road America, Road Atlanta, and the famous Nürburgring Nordschleife. There are also a variety of autocross, oval, and dragstrip tracks.
Table of Contents