From StrategyWiki, the video game walkthrough and strategy guide wiki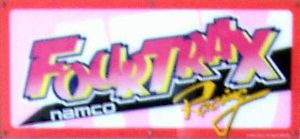 Four Trax (フォートラックス, lit.: Fō Torakkusu), is a racing arcade game, that was released by Namco in 1989 only in Japan; it runs on Namco's System 2 hardware, and was the third and final Japan-only 16-bit game from the company to not feature a "legal notice" upon startup saying that the game is for use in Japan only (the first two were Beraboh Man and Bakutotsu Kijūtei which were both released in the previous year). The gameplay is similar to Namco's own Pole Position games and their Final Lap, except for the fact that it has quad bikes instead of racing cars - and as with the latter of these two up to four players can play upon it simultaneously when a pair of two-player cabinets are linked together.
The players must take control of four quad bikes (which, as with the cars from Namco's own Dirt Fox, are coded by colours; red for Player 1, white for Player 2, yellow for Player 3, and green for Player 4), which are competing in an off-road race. They are given a preset amount of time in which to complete a full lap of the track, and, for every lap of the track that is successfully completed, the players' time is extended - however, if one of the players does not manage to successfully complete his current lap of the track before the time runs out, his game will instantly be over, and the race continues without him. The players must complete up to six full laps of the track to win, depending on how the cabinet is set; if their total time is low enough, they will be able to enter their initials, on the game's "best time" table.
Table of Contents