Jump to navigation
Jump to search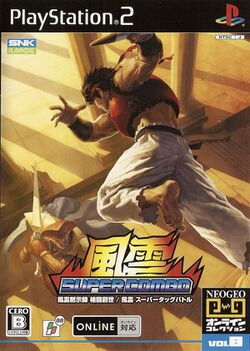 Fu'un Super Combo is a compilation of the following games:
This collection was originally released as volume 8 of the NEOGEO Online Collection. These games include color edit, arranged soundtracks, and online play through KDDI's MMBB matching service in Japan. Both games can be switched to English in the options menu.
Trophies
[
edit
]
There are 18 trophies for PlayStation 4.
General
[
edit
]
Picture
Name
Description
Trophy
A Bird In Hand
Kizuna Encounter: Super Tag Battle: Defeat Jyazu.

1:

 Bronze
Nah, I Got This
Kizuna Encounter: Super Tag Battle: Win a round without tagging out or taking damage (cannot be unlocked in VS mode).

1:

 Bronze
Weapons Free
Kizuna Encounter: Super Tag Battle: Get disarmed, then win the round without picking your weapon back up (cannot be unlocked in VS mode).

1:

 Bronze
Last Resort
Kizuna Encounter: Super Tag Battle: Defeat an opponent with a Surprise Attack (cannot be unlocked in VS mode).

1:

 Bronze
Ten-Hit Wonder
Kizuna Encounter: Super Tag Battle: Score a 10-hit combo or greater without using a desperation move (cannot be unlocked in VS mode).

1:

 Bronze
Bang the Machine
Kizuna Encounter: Super Tag Battle: Earn more than 55,000 points in the first match.

1:

 Bronze
Speed Demon
Kizuna Encounter: Super Tag Battle: Defeat an opponent within 10 counts (cannot be unlocked in VS mode).

1:

 Bronze
Trick Shot
Savage Reign: KO an opponent who's on a different plane than you are (cannot be unlocked in VS mode).

1:

 Bronze
Just A Shadow
Savage Reign: Defeat King Lion.

1:

 Bronze
Violent Storm
Savage Reign: Defeat King Leo and clear the game.

2:

 Silver
If This Doesn't Work…
Savage Reign: Win a match with a desperation move (cannot be unlocked in VS mode).

1:

 Bronze
Insert Your Initials
Savage Reign: Score 9,000 points or more in a single round (cannot be unlocked in VS mode).

1:

 Bronze
Picture
Name
Description
Trophy
Not Over Yet
Kizuna Encounter: Super Tag Battle: Reach and win a bonus match after defeating Jyazu.

1:

 Bronze
I'm Not Touching You
Kizuna Encounter: Super Tag Battle: Sway past an opponent 3 times in a row (cannot be unlocked in VS mode).

1:

 Bronze
Continuity Error
Kizuna Encounter: Super Tag Battle: Defeat Jyazu with King Leo.

1:

 Bronze
Bull In A China Shop
Savage Reign: Get a perfect score on both bonus stages in a single run through Arcade mode.

2:

 Silver
Throws Are Cheap
Savage Reign: Perform a Throw Reverse (cannot be unlocked in VS mode).

1:

 Bronze
Narrow Escape
Savage Reign: Dodge an opponent's desperation move by moving to the stage's other plane (cannot be unlocked in VS mode).

1:

 Bronze