Jump to navigation
Jump to search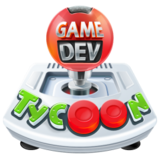 Game Dev Tycoon is a business simulation video game released on December 10, 2012. In the game, the player creates and publishes video games. Game Dev Tycoon was inspired by Game Dev Story (by Kairosoft), which was released on the App Store for iOS. Game Dev Tycoon was created by Greenheart Games, a company founded in July 2012 by brothers Patrick and Daniel Klug.
The game's developers implemented an unique anti-piracy measure for Game Dev Tycoon. Patrick Klug, founder of Greenheart Games, knowing that the game was likely to be torrented extensively, purposely released a cracked version of the game and uploaded it himself to torrent sites. Gameplay in this version is identical except for one variation, as players progress through the game they receive the following message:
Boss, it seems that while many players play our new game, they steal it by downloading a cracked version rather than buying it legally. If players don't buy the games they like, we will sooner or later go bankrupt.

—Greenheart Games, Game Dev Tycoon
Eventually players of the cracked version will gradually lose money until they do go bankrupt, as a result of pirates.
Progression
[
edit
]
You start out in your garage with no employees, limited money, and limited choices for your first game. You create games, gradually making more and more money until you can upgrade to an office. Once you get the office, you can hire employees to help you with the game making. After quite a while of that, you can move on to a larger office with more space to hire employees. You will stay in this office for the rest of the game.
Table of Contents