Jump to navigation
Jump to search
This is the first game in the Gargoyle's Quest series. For other games in the series see the Gargoyle's Quest category.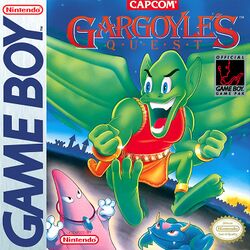 Red Arremer: Ghosts 'n Goblins Side-Story (レッドアリーマー 魔界村外伝, Reddo Arīmā Makaimura Gaiden?, "Red Arremer: Demon World Village Side-Story") was originally developed and published in Japan in 1990 and later localized in North America and Europe as Gargoyle's Quest: Ghosts'n Goblins (on the title screen). It is an action platformer with mild Role-Playing Game elements.
The main character, Red Arremer (Firebrand in the localizations) made his debut in the Ghosts 'n Goblins series. Gargoyle's Quest was followed by two sequels: a NES game called Gargoyle's Quest II released in 1992 and Demon's Crest for the SNES in 1994.
Red Arremer (Firebrand) is a gargoyle who is predestined to be the Red Blaze who saves the Ghoul Realm from the evil wrath of King Breager and brings peace to the land once again.
A long time ago, the Ghoul Realm barely escaped great peril. A large army of Destroyers came from a neighboring universe. The creatures of the Ghoul Realm were no match for the powerful Destroyers. Just when everyone had given up hope, a great fire swept over the Realm, wiping out the Destroyers' army.

Several hundred years have passed and the Realm is threatened once again...
Table of Contents