Jump to navigation
Jump to search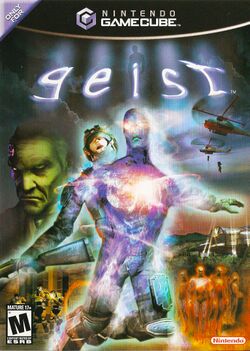 Neoseeker Related Pages
Links
Geist is a video game for the Nintendo GameCube, released on August 15, 2005. It has been billed by its creators as "The thinking man's first-person shooter". This is the second game published by Nintendo to receive an ESRB M rating (the first being Eternal Darkness: Sanity's Requiem). Shigeru Miyamoto was the producer for this game and contributed many gameplay ideas to the team at n-Space.
Set in the year 2005, John Raimi is a civilian scientist and a member of a counter-terrorism team sent to investigate the Volks Corporation. After the mission goes bad, Raimi's team is killed and his spirit is separated from his body. He now must wander the Volks Corp. while trying to get his body back.
As a disembodied spirit, Raimi is invisible and intangible. Raimi's main ability is to take over other humans, animals, and even inanimate objects to achieve his goals. He has to explore an unknown environment, do battle with dangerous enemies, and save his best friend from the same experiment he was exposed to.
Table of Contents