From StrategyWiki, the video game walkthrough and strategy guide wiki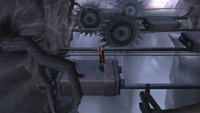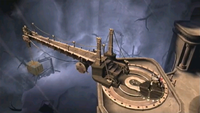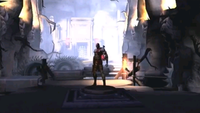 As soon as you enter the Architect's Tomb, you'll come across a set of obstacles in the form of moving platforms and spinning razor blades. Jump across the platforms to the land on the other side, then head to the right, lift up the gate, and follow the path through the tunnel. At the next area, you should be attacked by a cyclops and some Cerberus pups. Finish them off, then climb up the ladder to the left (or the ladder in front of you for some chests) and turn the crank so that the block ends up above the breakable floor below it. Pull the lever, then go back to the crank and turn it to the right so that the block ends up above a switch on the ground below. Pull the lever and jump down to be greeted by more than one cyclops. Before jumping down into the space you created in the ground, go to the left and find a statue to push down into the gap. Push it onto the switch and another portion of the gate will open. The final requirement involves revisiting the moving razor/platform obstacle, this time taking it backwards. Step on the switch once you reach the other side, and the gate will open completely. Go in, take the head of the architect's wife and the door ahead will open.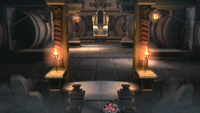 Follow the uneventful path until you reach some conveyor belts. Get on them to begin a new challenge; here, you have to defeat enemies while the belts move. Attack for too long without moving and Kratos will be crushed. After you've defeated the monsters, head up the staircase, open the doors, and pull the handle to find, at long last, Pandora's Box. After the scene, begin pushing Pandora's Box out of the temple. A scene will stop you in which Ares stabs Kratos and steals Pandora's Box. Now, Kratos is sent to the underworld, where he must brave the Path of Hades before returning to Athens.