Jump to navigation
Jump to search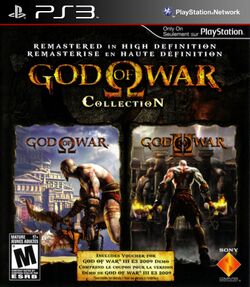 Neoseeker Related Pages
Links
For the PlayStation 3 compilation of PSP games, see God of War: Origins Collection.
God of War Collection is a remastered port of God of War and God of War II for the PlayStation 3 on a single Blu-ray Disc, and was released in North America on November 17, 2009. The God of War Collection and trilogy packs were released in Australia on April 29, 2010 and in the UK on April 30, 2010. The game was released in Japan as a standalone on March 18, 2010 and was published by Capcom who has published the other God of War games released in Japan.
The games were ported by Bluepoint Games and use the features of the PlayStation 3, including high-definition resolutions (720p), anti-aliased graphics locked in at 60 frames per second and trophies. The port was derived from feedback of fans of the series in anticipation for God of War III's release, and was seen as a way to introduce new players to the series prior to that game's release. The God of War III game demo from E3 2009 is included.