Jump to navigation
Jump to search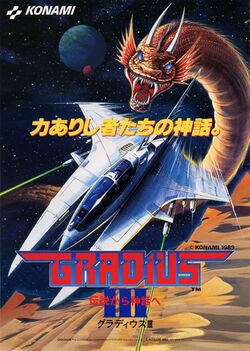 Gradius III (グラディウスIII 伝説から神話ヘ, Gradius III? Gradius III: From Legend to Myth) is a side-scrolling arcade shooter released in Japan in 1989. North American audiences saw its release in 1991. It was ported to the Super NES in 1991, then in 2006 it was included in the Gradius III and IV compilation for the PlayStation 2, and even later in 2006 in the Gradius Collection for the PSP.
It is considered one of the hardest Gradius games.
A soundtrack, containing the original music as well as arranged tracks, was released by Konami on the King Records label in the early 1990s. There are ten levels.
The Bacterions are attacking again. This time, the leader Bacterion is using a powerful source known as Dark Force. The Dark Force can destroy anything in its path. So planet Gradius relies on the ship Vic Viper to defeat the Bacterions once and for all.
Table of Contents