Jump to navigation
Jump to search
This is the first game in the Gran Turismo series. For other games in the series see the Gran Turismo category.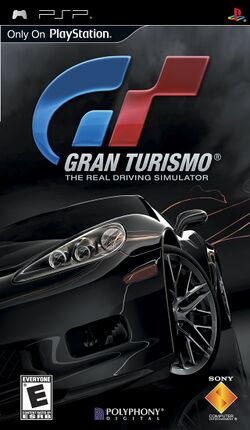 Gran Turismo (also previously known as Gran Turismo 4 Mobile, Gran Turismo PSP, and Gran Turismo Mobile) is a PlayStation Portable game developed by Polyphony Digital. As one of the launch titles for the PSP Go, the game is available as both a retail UMD disc and a digital download from the PlayStation Store.
The game features over 800 cars, although only 4 cars are present in a single race. The exotic car manufacturer Ferrari is featured, and for the first time in the Gran Turismo series, Lamborghini, Bugatti and various other cars are introduced. There is no damage model in the game. All 35 tracks are included, and most can be driven forward and reverse.
Gran Turismo is centered on completing driving missions in order to advance in the game, unlike Gran Turismo 4's open-ended map. The game uses a new trading system to allow players to acquire cars. Ad-hoc multiplayer is supported for up to four players. The game also allows online play through a free downloadable PlayStation 3 application known as Adhoc Party for PlayStation Portable. Tracks featured in the game are directly sourced from Gran Turismo 4 and Tourist Trophy, while the game's physics engine is based on Gran Turismo 5 Prologue.
No additional cars or tracks will be available through DLC.
Table of Contents