Jump to navigation
Jump to search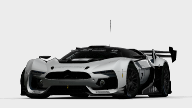 Description
[
edit
]
The "GT by Citroen" announced at the 2008 Paris Motor Show, is a sports concept car in which Citroen and Gran Turismo collaborated for the first time.
The car attracted a great deal of attention as a new type of concept car, a fusion of the real and virtual worlds. In the spring of 2009, a decision was made to run a racing spec version of this machine in the digital world of GT.
The exterior design is still by Takumi Yamamoto, the designer who created the original. Numerous sketches were sent to PDI day after day, and as a result, the original wings were widened, and with the addition of air ducts and other aerodynamic parts, the design evloved into an extremely aggressive look.
The fine details of how to make it more of a racing car were then left up to PDI. Details of such as the bonnet pins and tow hooks you would normally see on race cars - the vlaves for the air jacks, and the layout of sponsor stickers; these were all designed and implemented by the PDI artists.
The other major piece of work left to PDI was the design of the interior. The environment and feel was that a modern jet fighter, and while being extremely high tech, it is balanced with the gritty feel of a real racing car.
All parts aside from the dashboard have been replaced and although not changed in design, the dashboard is now formed carbon, instead of copper. The steering wheel and HUD (heads-up display) are functional in design as befitting a racing car, while still being as eccentric as the exterior. The HUD displays essential information such as speed, engine rpm, steering angle, and horizontal G's.
Standard Performance
[
edit
]
| | |
| --- | --- |
| Displacement | --- |
| Max. Power | 611BHP / 8500rpm* |
| Max. Torque | 60kgfm / 6500rpm* |
| Drivetrain | -- |
| Weight | 1200kg |
| Power to Weight Ratio | 1.93 kg / BHP* |
| Length | --- |
| Width | --- |
| Height | --- |
Max. BHP, Torque, Power:Weight ratio details obtained after Oil change and Engine Rebuild. No modifications made.
Availability and Price
[
edit
]
| | |
| --- | --- |
| Price | Cr. 5,600,000 |
| Required Level | 21 |
| New Car Dealerships | Yes |
| Used Car Dealerships | ? |
| Prize Car | Yes (Dream Car Championship, B-Spec) |