Jump to navigation
Jump to search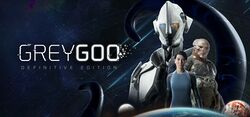 Grey Goo is a real-time strategy game developed by Petroglyph Games and published by Grey Box. That game was released in January 23, 2015 for Windows PC. It was later supplemented by the free DLC Descent of the Shroud, and a second, shortened campaign. Grey Goo features three - later four - asymmetric factions to play as in both a campaign and a four player skirmish mode.
The official ranked servers for Grey Goo were shut down, but it is still possible to play custom games against opponents. The fan community continues to run unofficial tournaments in 2021.
Set on the planet of Ecosystem 9, Grey Goo tells the story of the Beta, who have fled the destruction of their homeworld and settled on Ecosystem 9 at the hands of a mysterious entity called "the Silence". Humanity, having evolved to become peaceful and spacefaring, have managed to catch up to their exploration probes - only to find that the probes have changed into something far more sinister.
The game's skirmish mode is known to conflict with some antivirus programs and VPNs.
Table of Contents