Jump to navigation
Jump to search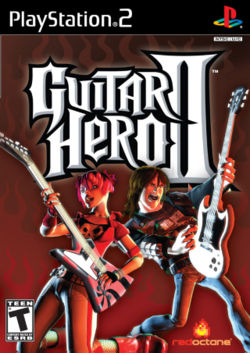 | | |
| --- | --- |
| Genre(s) | Music |
| Players | 1-2 |
| Input | Scaled Gibson guitar controller |
Guitar Hero II is a guitar simulation rhythm game made by Harmonix, and the sequel to Guitar Hero. The game is played using a scaled plastic guitar, which comes with the game. The PlayStation 2 version is bundled with a cherry red Gibson SG (although any PS2 Guitar Hero peripheral will also work), while the Xbox 360 version comes bundled with a white Gibson X-Plorer (again, the wireless 360 controller packaged with GH3 will work). Also, the PS2 version will work with a standard PS2 Dualshock controller.
The basic idea behind the game is to watch a scrolling fretboard onscreen and press the buttons on the guitar controller according to the colored notes on the screen, while strumming. Of course, this is easy enough in the early songs and difficulties, but later on in the game, you will be required to learn advanced techniques such as keeping pace with the rhythm of the song while playing the notes (including some songs with very erratic tempos) and hammering on notes (playing notes without strumming). Anyone can pick up the game and play through Easy and Medium without much of a problem, but true Guitar Heroes will need to really practice to perfect their skills at Hard and Expert modes.
Among the classical rock songs you can play in this game are covers of Sweet Child O' Mine, Carry On Wayward Son, You Really Got Me, Strutter, and even the legendary song Free Bird by Lynyrd Skynyrd. In addition, there are over 20 bonus songs in the game that are all master tracks recorded by the original artists. The most famous of these bonus tracks is Jordan by Buckethead. Being able to beat this song is one of the most difficult challenges in this game. And if the bonus songs weren't enough, Xbox 360 users get a different setlist from PS2 users with exclusive songs, and online play with players around the world.
Table of Contents