Jump to navigation
Jump to search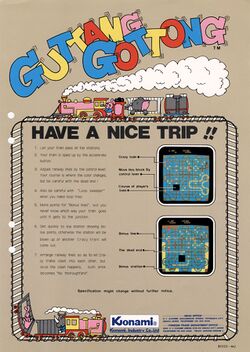 This guide is for the game named Loco-Motion in the US. For Mastertronic's 1985 ZX Spectrum game, see Loco-Motion (1985).
Guttang Gottong, released over the US as Loco-Motion, is a sliding puzzle arcade game that was developed by Konami in 1982 and licensed out to two different companies for its manufacturing and distribution, Sega in Japan and Centuri in the US; it runs on an altered version of Namco's Pac-Man hardware with a video system like that used in both Rally-X games, which was first used for Jungler and Tactician in 1981 (a Zilog Z80 major microprocessor running at 3.072 MHz, with a second Zilog Z80 sub-microprocessor running at 1.789772 MHz and two General Instrument AY-3-8910s running at that same speed for sound). The player must direct a steam engine to pass through every station on each round by using a 4-way joystick to adjust the layout of the track it's running on, along with a single button to make it accelerate - and the route that has to be taken is where the colour changes, but the player must try to avoid dead ends and CPU-controlled "Crazy trains" (the track may also be adjusted to force "Crazy trains" to crash into each other, but once this happens, the area in question can't be passed through again). Every station passed through is worth 100 points, and each "Bonus line" passed through is worth 150 points; however, it's not possible to tell which way your engine will go on a "Bonus line" until it reaches the junction. Furthermore, you have to pass through the "Bonus station" on each round before its point value decreases to 0, because if you do not, it will explode or another "Crazy train" will appear - and finishing each round is usually worth a 1000-point bonus, but finishing one after collecting every passenger on it is worth a 5000-point bonus. In Japan, this game was ported to the Sord M5, while in the US it was ported to the Intellivision, Atari 2600, Commodore 64 and Tomy Tutor; it was also a game in Japanese compilation Konami GB Collection Vol. 2 for the Game Boy in 1997 and the European Konami GB Collection Vol. 3 for the Game Boy Color in 2000.
Trophies
[
edit
]
There are six trophies for PlayStation 4.
Picture
Name
Description
Trophy
Record score
The score has been posted to the online rankings in the "ORIGINAL MODE".

2:

 Silver
Mark high score
High score has been updated.

2:

 Silver
Score 5,000 points
The score won 5,000 points.

1:

 Bronze
Score 10,000 points
The score won 10,000 points.

2:

 Silver
Score 15,000 points
The score won 15,000 points.

3:

 Gold
HI SCORE Player
The score has been posted to the online rankings in the "HI SCORE MODE".

3:

 Gold