Jump to navigation
Jump to search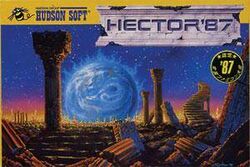 Hector '87, is a scrolling shooter developed and published by Hudson Soft for the Famicom. It was renamed Starship Hector when it was released on the NES in the United States. Similar to Life Force, the game alternates each stage between a vertical scroll and a horizontal scroll. Also reminiscent of Xevious, the player's starship has two modes of fire; air-to-air guns that hit flying enemies and air-to-ground bombs that hit land based ones.
The ship that you control is not destroyed with one hit. Rather, you have a shield and you can regenerate it by bombing particular ground targets, which will release energy capsules. Despite this advantage, it's still very easy to get killed, and you are sent back to the beginning of the stage when you die. In addition to the regular mode of gameplay, Hector '97 also introduced the 2 and 5 minute gameplay modes found in the later games.
Hector '87 was first remade in 1995, along with two other NES shooters with very little upgraded, for the Super Nintendo in the Japan only release of the Caravan Shooting Collection. It was also included in Hudson's own compilation of Famicom shooters in 2006 in Hudson Best Collection Vol. 5. The main theme of Starship Hector can be unlocked as a music track (among other classic Hudson themes) in the Wii game Kororinpa.
Table of Contents