Jump to navigation
Jump to search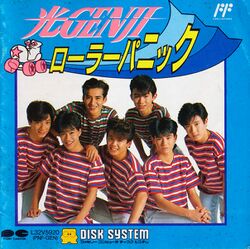 Hikaru Genji Roller Panic (光GENJI ローラーパニック, Hikaru Genji Roller Panic?) is an adventure game developed by Pony Canyon for the Famicom Disk System and published in Japan in 1989. It is an adventure game where the player must save the big concert of their favorite Japanese rollerskating boy band.
Hikaru Genji Roller Panic is an adventure game in which the player, as a fan of the titular boy-band Hikari Genji, has to locate their roller skates across town before they are able to perform their big concert. This involves walking around the town and talking to various NPCs until the roller skates for each of the seven band members have been found.
Hikaru Genji were a seven-piece boy band from the late 80s with a string of hits around that time. They were represented by talent agency Johnny & Associates, which received a credit in the game's title screen. They are named after the protagonist of the 11th century historical novel The Tale of Genji, presumably due to that character's noted androgynous good looks.
Table of Contents