Jump to navigation
Jump to search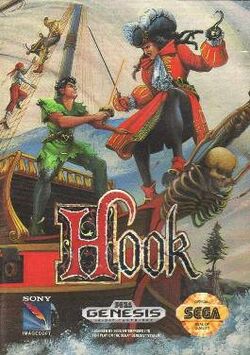 For other games named Hook, see Peter Pan.
Hook is a game that was released in 1992 on four different consoles. The original version for the Super Nintendo Entertainment System was designed and developed by a Japanese game developer, Ukiyotei. The Sega Mega Drive/Genesis and Sega Mega-CD/Sega CD ports were handled by Core Design. The Sega Game Gear port was handled by Spidersoft (this was also supposed to be released for the Sega Master System; a prototype exists). All versions were published by Sony Imagesoft and were essentially identical; however, the Sega CD version has the musical score from the film and better cut scenes with voice actors and digital stills.
Gameplay
[
edit
]
The player controls Peter Banning through various side-scrolling levels on, yet again, a quest to save his children from Captain Hook. This game received mostly positive reviews, making it stand out from the typical movie-game adaptation.
Table of Contents