Jump to navigation
Jump to search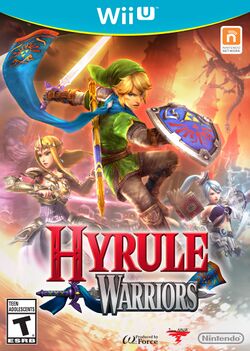 Independent wikis with more information:
Zelda Musou (ゼルダ無双, Zeruda Musou?, lit. "Zelda Unrivaled"), localized outside Japan as Hyrule Warriors, is a hack and slash game developed by Omega Force and Team Ninja for the Wii U. The game is a collaboration between Tecmo Koei and Nintendo, and contains elements of Nintendo's The Legend of Zelda series and Tecmo Koei's Dynasty Warriors series. The game was released in Japan on 2014 August 14, with a release in Europe, Australia and North America on September 19th, September 20th and September 26th, 2014 respectively. The game was released both in physical form, via discs, as well as digitally via the Nintendo eShop.
A remake for the Nintendo 3DS, titled Hyrule Warriors Legends, was released in Japan on 2016 January 21 and the U.S. on March 25 the same year. An updated version titled Hyrule Warriors: Definitive Edition has been released for the Nintendo Switch on 2018 March 22 in Japan and 18 May 2018 worldwide. This version contains all content from the Wii U and 3DS versions.
The game is set in the fictional kingdom of Hyrule and stars a new incarnation of series protagonist Link as a Hylian soldier-in-training. Formerly the protector of the Triforce, Cia, a good person at heart, becomes corrupted when she falls in love with Link and grows jealous of Zelda's familiarity with him. Sending out her subordinates Wizzro and Volga, she wages a war against Hyrule and prompts Link, Zelda and her protector Impa, to restore balance to the land. Soon joined by Lana, a heroic sorceress from Cia's clan, and a Sheikah warrior calling herself Sheik, the Hylian army confronts Cia, who merges their world with the worlds of Ocarina of Time, Twilight Princess, and Skyward Sword. The Hylian army soon rallies characters from those games to their side to stop Cia as she attempts to resurrect Ganondorf.
Table of Contents
Linkle's Adventure and The Wind Waker Adventure (3DS and Switch only)
Appendices
Prologue
Ocarina of Time
Twilight Princess
Skyward Sword
Epilogue
Ganondorf
Grand Finale
Cia's Tale