Jump to navigation
Jump to search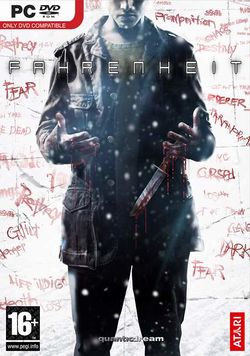 Neoseeker Related Pages
Links
For the Sega CD and Sega 32X game, see Fahrenheit (Sega).
Fahrenheit, also known as Indigo Prophecy in North America, is a cult video game developed by Quantic Dream and manufactured and marketed by Atari. The game was released in September 2005. A good deal of publicity was generated from the developer's rejection of conventional game genre labeling for the title; Quantic Dream prefers to brand it as the first truly "interactive film" rather than an adventure or third-person action title. This game features a large amount of motion captured animation as well as branching story lines, split screen cameras and an interface designed to be intuitive and realistic. Event triggers in the game are also mainly time-based, as opposed to the more common player-initiated progression found in most games.
In this paranormal thriller, New York City is stunned by a series of mysterious murders that follow the same pattern: ordinary people become possessed and kill absolute strangers in public. In the video game, the main male character must uncover the supernatural forces behind his crime.
Table of Contents