Jump to navigation
Jump to search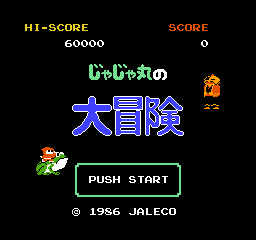 Jajamaru no Daibouken (roughly translated: Great Adventure of Jajamaru) is a ninja-action game developed by Jaleco for the Famicom in 1986. It is the second game in the "Jajamaru" series, and the sequel to Jaleco's earlier game Ninja Jajamaru Kun. This game attempts to merge elements of the previous game with more side scrolling elements found in Nintendo's immensely popular Super Mario Bros. The result doesn't quite force you to deal with enemies like the earlier game did, and it doesn't quite reward you for exploring the stage like Super Mario Bros. does.
Jajamaru must proceed through a stage from left to right, attacking or avoiding the enemies that he encounters along the way. Certain oddly colored blocks can be hit from beneath to reveal point items, power ups, or possibly bombs that kill Jajamaru, so you must always watch what appears. A timer counts down as you proceed to the right. If it runs out, a flame appears and begins to hunt you down. After one stage, you must engage in a boss fight that is more like a bonus stage. Then the next scrolling stage begins, followed by another boss fight and so on. There are 20 distinct stages that repeat. In 2004, the game was included as one of five Famicom games in Jajamaru Jr Denshouki Jaleco Memorial for the Game Boy Advance.
The Catfish Pirate is back! And he has kidnapped Princess Sakura yet again. Jajamaru won't stand for this. He hops on his giant frog and rushes into battle for Princess Sakura's freedom yet again. He will have to proceed through 10 different stages, and face 4 different mini-bosses before taking the battle directly to the Catfish Pirate. After defeating him twice, Princess Sakura will finally be safe.
Table of Contents