Jump to navigation
Jump to search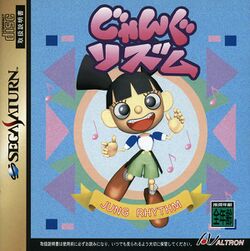 Jung Rhythm is by Altron Corp., copyright 1997. It's quite possibly the only music-action game ever released for Sega Saturn, as the genre had just begun its development fairly late in the Saturn's Japanese life. It's somewhat similar to PaRappa and Lammy on PSX. It was never released in the U.S. (like a lot of the good Saturn games), and all of the songs are in Japanese. (Okay, there's one English song, but it's just a cut-scene.) It's not really a rare game in the inflated-prices sense, but it's also not the easiest find as most people haven't heard of it.
If you bought the game new, you'll get the game CD, case, instruction booklet, spine card, registration card, and a lyrics sheet. A used game that "comes complete" should include all those items.
There are no special requirements for this game except the ability to play imported games. A 4-in-1 cart, ST-Key, or GameShark should all work fine if you don't have a mod chip.
Table of Contents