Jump to navigation
Jump to search
This is the first game in the Killzone series. For other games in the series see the Killzone category.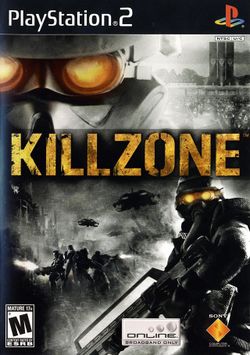 Neoseeker Related Pages
Links
Killzone is a first-person shooter exclusive to the PlayStation 2 game console, developed by Netherlands-based Guerrilla Games and released on November 2, 2004 in North America.
The game is set in an era of space colonization where the Helghast Empire has recovered from its defeat in the First Helghan War and launched a blitzkrieg against the outer Interplanetary Strategic Alliance (I.S.A.) colony planet Vekta. Vekta's orbital Strategic Defense (S.D.) platforms failed during the initial assault, allowing the Helghast to land swarms of soldiers onto the surface and making it all the more difficult for the outnumbered I.S.A. forces.
The player takes control of I.S.A. Captain Jan Templar, fighting off the Helghast invasion. Templar and his squad are called back to the base for reassignment, and are promptly sent to find the I.S.A. operative Hakha and the key in his possession. During the course of the game, the player also takes control of several other characters, such as Shadow Marshal Luger (a female special operations assassin), a heavy weapons specialist Sergeant Rico Velasquez (a Helghast-hating soldier with an itchy trigger finger), and Colonel Hakha, a half-Helghast, half-Human spy.
Table of Contents
Handheld:
Compilation(s):