Jump to navigation
Jump to search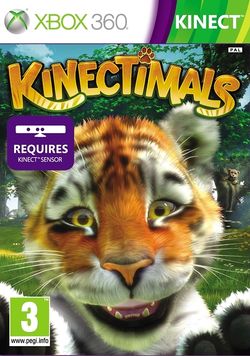 Kinectimals is a video game for the Xbox 360 that uses Kinect. In Kinectimals players can interact with virtual animals in a manner akin to pets, gameplay includes activities such as teaching tricks to the animal, guiding the animal around an obstacle course, and free-form play.
The video game is aimed at a young audience, particularly children, and includes five different virtual animals all based on wild cats. Kinectimals was developed by Frontier Developments and was a launch title for Kinect.
Throughout the game, the player spends time using the Kinect System to feed, play and care for an animal. Upon starting the game the player will visit Fur Town, where they will choose one of the five initial cubs. As the game progresses up to 11 cubs can be unlocked.
Table of Contents