Jump to navigation
Jump to search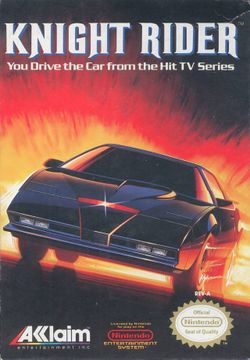 Knight Rider is an action driving game developed for the NES by Pack-In-Video that is very loosely based on the American television show of the same name. It was released in Japan in 1988, and published in the United States by Acclaim at the end of 1989.
In the show, self-made billionaire Wilton Knight rescues police Detective Lieutenant Michael Arthur Long after a near fatal shot to the face, giving him a new identity (via plastic surgery) and a new name: Michael Knight. Wilton selects Michael to be the primary field agent in the pilot program of his public justice organization, the Foundation for Law and Government (FLAG). The other half of this pilot program is the Knight Industries Two Thousand (KITT), a heavily modified Pontiac Firebird Trans Am with numerous features including an extremely durable shell and frame, controlled by a computer with artificial intelligence. Michael and KITT are brought in during situations where "direct action might provide the only feasible solution". Heading FLAG is Devon Miles, who provides Michael with directives and guidance. Dr. Bonnie Barstow is the chief engineer in charge of KITT's care, as well as technical assistant to Devon.
Gameplay
[
edit
]
In the game, Terrorists have raided a U.S. military site; only Michael Knight and his robotic car KITT can chase them across the United States to stop their evil plan. A time limit helps put pressure on the player as he attempts to defeat the terrorist forces. KITT has structural shielding; however the vehicle is considered destroyed if it repeatedly crashes or enemy gunfire depletes the shielding. Despite the non-violent premise of the television show, "Mission Mode" makes use of firearms as way to enhance play (similar to RoadBlasters). Shooting non-combatant (blue) vehicles deducts from the timer, making the completion of a level more difficult.
Table of Contents