Jump to navigation
Jump to search
This is the first game in the Super Chinese series. For other games in the series see the Super Chinese category.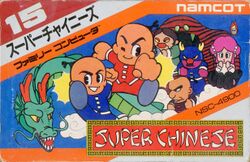 Super Chinese is a Famicom game developed by Micro Academy and published in Japan by Namco in 1986. It was entitled Kung-Fu Heroes when it was published in the United States by Culture Brain in 1989. It features an overhead view and up to two players may play simultaneously. It is an improved port of the earlier arcade game known as Chinese Hero, which was developed by Taiyo. This is the first game in the Super Chinese series, and unlike other titles in the series, it does not incorporate any RPG elements in the gameplay.
The player controls one of the characters, Jacky or Lee, and each level pits the player against countless enemy warriors. The goal is for the player to defeat enough enemies so that the door at the top of the room opens allowing the player to exit the room and proceed to the next. Enemies' attacks and weapons vary throughout the game. There are a number of "BONUS" rounds that can be opened, and items can be punched out of rocks and blocks which provide the player with power-ups.
This game is believed to have been published in the arcade in 1988 as part of the Nintendo Vs. hardware system, under the title Vs. Super Chinese.
Monsters have taken Princess Min-Min captive and have stolen the 10 treasures of the nameless land the game takes place in, leaving everything in sorrow. Kung-fu Masters Jacky and Lee return from training and must set out to rescue the princess and find the treasures.
Table of Contents