Jump to navigation
Jump to search
This is the first game in the LEGO Racers series. For other games in the series see the LEGO Racers category.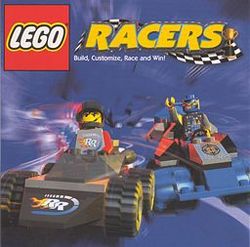 Neoseeker Related Pages
Links
LEGO Racers is a computer game from LEGO Software. It is part of the racing game genre and features seven circuits. It was released for Windows, then for the N64 and other console systems. The game features a rather simple storyline, in which the player must defeat a myriad of the best LEGO racers to become "the greatest LEGO racing champion of all-time".
Gameplay
[
edit
]
There are 13 courses in LEGO Racers. There are seven champions of each circuit. Green bricks are the key to winning this game. Green bricks boost you up to get ahead of someone. You can upgrade the green by getting white bricks in places. You can get three white bricks maximum. Red bricks are for shooting opponents; this is similar to Mario Kart, with green shells and red shells. Blue bricks are for protecting you from any harm and act as shields. Yellow bricks are for releasing traps for someone to drive into, like oil or gun powdered barrels.
Set in the fictional "LEGOland" universe, the single-player mode follows various minifigure characters competing in a racing competition created by a fictional racing champion called Rocket Racer. Players control a minifigure, allowing them to drive a variety of cars built out of LEGO and race them against other minifigure characters. Items can be used by the player to hinder other racers' progress, and the player can create their own cars and characters with unlocked LEGO bricks and use them to race. A local multiplayer mode also allows multiple players to race against each other.
Table of Contents