Jump to navigation
Jump to search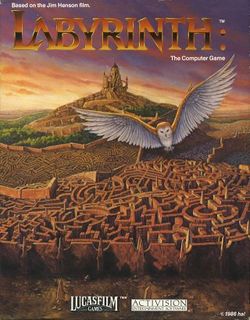 For the Famicom version developed by Tokuma Shoten, see Labyrinth (Famicom).
Labyrinth (also known as Labyrinth: The Computer Game) is a graphic adventure computer game, inspired by the Jim Henson fantasy film, Labyrinth. The game was developed by Lucasfilm Games (now LucasArts) and published by Activision in 1986 for the Apple IIe and Apple IIc, Commodore 64/128, and translated into Japanese by Pack-In-Video for the MSX2. It was the first adventure game to be developed by the LucasArts development house, and as such it can be seen as a more primitive precursor to the development of the SCUMM game engine. It is also one of the few adventure games made by the company to not use a variation of the SCUMM game engine (the other games being the GrimE-based Grim Fandango and Escape from Monkey Island). The game engine and graphics are very similar to a later work by Lucasfilm Games called Habitat.
Gameplay
[
edit
]
Labyrinth is a menu-driven adventure game, played from a third-person perspective. The game begins by asking the player their name and gender, the game then opens as a text-based adventure. During the text-based portion of the game the player goes to the theater to see the film Labyrinth. The movie starts and an image of Jareth comes on the movie screen, after which the game becomes a graphic adventure.
Table of Contents