Jump to navigation
Jump to search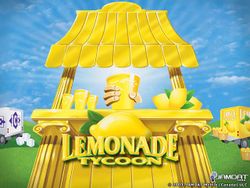 Lemonade Tycoon, previously released as Lemonade Inc., is a Shockwave-based game first released by Hexacto on September 13, 2003. A free, limited version is available for online play at many sites. The full game with no time restrictions can be purchased online. The goal of Lemonade Tycoon is to sell lemonade and profit. With selling, players must manage many aspects of their business. Players establish a recipe, set prices, and sell lemonade in a variety of locations. The game includes changing weather and news, which the player must compensate for. To overcome some factors, such as long lines and stock, players can buy upgrades. The packaged version included versions for PC, Mobile Phones, PocketPC, and Palm devices. Lemonade Tycoon employs an innovative "Game-On" concept which allows users to transfer game saves from a Windows PC to a Palm handheld or Pocket PC and back again to continue.
While Lemonade Tycoon is compatible with multiple platforms, the game differs slightly on each. The Windows version allows more details and info because of a larger screen. Locations had a much bigger view and other versions had to deal with smaller screen. They did not include as much information as the PC. Areas would be cut down so only a portion could be seen. Each platform, however, is not limited in usability and functionality.
The sequel, Lemonade Tycoon 2, is set in multiple locations in New York City and allows more than one stand. It, of course, has multiple improvements over the original.
Lemonade Tycoon earned the Best Pocket PC Strategy Game in Pocket PC Magazine's 2002 Best Products Awards
These are the people who worked on Lemonade Tycoon:
Lead Programmer: Laurent Vitalis
Programming: Dany Savard and Denis Simard
Framework Programming:Jean-Roch Roy, Michel Donais, Michel Glaude, and Dominic Marier
Game Design: Alexandre Parizeau and Laurent Vitalis
Graphic Design: Le Hoang Khanh
Graphics Production: Simon Nadeau, Laurent Vitalis, and Van Bolher
Sound Production: Laurent Vitalis
Executive Producer: Sylvain Croteau
Producers:Alexandre Taillefer, Alexandre Thabet, Patrick Minotti, and Derek Zakaib
Table of Contents