Jump to navigation
Jump to search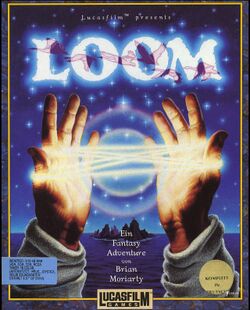 Neoseeker Related Pages
Links
Loom was Lucasfilm Games' first, and so far, only purely fantasy adventure game, written by Brian Moriarty.
The backstory of Loom is revealed in an audio cassette included in the game package that shows the nature of the Loom world, its division to the Guilds, and the strange creation of a baby, out from the magical Loom of the Guild of Weavers.
In Loom, you play the role of that boy, 15 years later, called Bobbin Threadbare. His aim is to find rest of his Guild who have been "Transcended" into swans in order to evade the coming of the Third Shadow, or Chaos. The game was noted for its minimalistic approach: it was relatively easy, its duration was short, had a limited interface, no inventory or item puzzles, and most interaction was done with the usage of musical spells (instead of commands).
The game was planned to be followed by two sequels which were never produced.
Table of Contents