Jump to navigation
Jump to search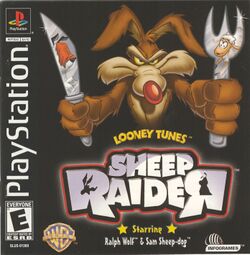 Sheep, Dog 'n' Wolf (released as Looney Tunes: Sheep Raider in North America) is a puzzle-platformer stealth video game developed and published by Infogrames for Microsoft Windows and PlayStation.
The game is based on the popular Warner Bros. series of cartoons featuring Sam Sheepdog and Ralph Wolf. Controlling Ralph, the player must steal sheep from under Sam's nose while navigating through a series of levels, including two secret levels and a bonus level.
The goal of each level is to steal one of the sheep from Sam Sheepdog's flock without him noticing and escort it to a marked area. Ralph is able to jump, tiptoe as to not make noise, and dash in case he needs to escape from danger. To aid Ralph in obtaining the sheep, Ralph can mail order various gadgets from Acme, such as rocket packs and dynamite. Certain items can be combined; for example, a fan can be used on a bottle of perfume to have its scent attract one of the sheep from afar. Ralph can also collect lettuce to lure the sheep towards places where Ralph is unable to carry them, such as on a weak bridge.
After another failed attempt at stealing a sheep from Sam Sheepdog, Ralph Wolf returns home after his shift to relax and enjoy some television in his chair. Daffy Duck bursts in and declares that Ralph is the newest contestant on the game show "Sheep, Dog, and Wolf" or as Daffy likes to call it, "Who Wants to Be a Sheep Stealer". In this show, Ralph is tasked with successfully stealing sheep from Sam in a variety of environments, though he is not allowed to harm the sheep in any way.
Table of Contents