From StrategyWiki, the video game walkthrough and strategy guide wiki

This guide is a candidate for being featured. A featured guide should be complete in every sense and serve as an example for other guides. Please voice your opinion on this guide.
Luigi's Mansion (ルイージマンション, Ruīji Manshon?, lit. "Luigi Mansion") is an action-adventure video game developed by Nintendo for the Nintendo GameCube in 2001. It was a launch title for the GameCube.
Luigi's Mansion is one of the few official Mario games to star Luigi exclusively, as opposed to most earlier Mario titles that featured either Mario by himself or both Mario and Luigi. A sequel, Luigi's Mansion: Dark Moon, was released for the Nintendo 3DS in 2013.
The game features a unique set of goals and ways to attain those goals involving stunning ghosts with a flashlight and promptly sucking them into a vacuum cleaner, which is aptly named the Poltergust 3000.
One day Luigi receives a notice in the mail that he's won a free mansion! Knowing that the Mario Brothers aren't too well off, Luigi tells his brother, Mario, who goes out to pursue the mansion. Luigi follows him some time later. He comes across the mansion deep in the Boo Woods, and heads inside. All is silent, and there is no sign of Mario. He goes up the staircase and tries to open a door, but it is locked. Back downstairs, a supernatural being drops a key. Luigi picks it up and tries it in the door. It works, and Luigi goes in, only to be attacked by a ghost! But, luckily, Professor Elvin Gadd, owner of the nearby laboratory, is there as well, and tries to catch the ghost with his invention, the Poltergust 3000. But the ghost escapes, and returns with two more. Luigi and the Professor escape to the lab, and the Professor agrees to help Luigi find his brother.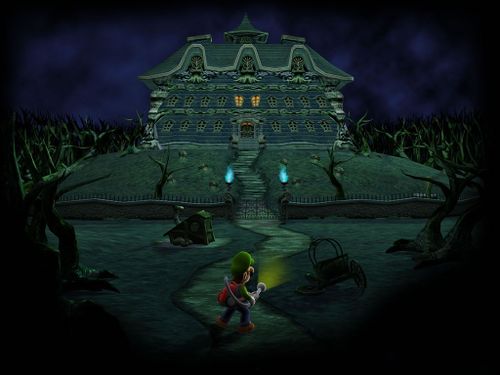 Table of Contents

Appendices