Jump to navigation
Jump to search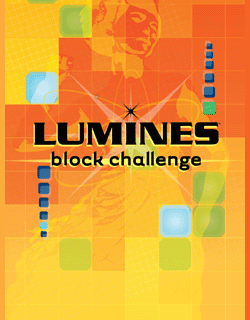 After the popularity of the original Lumines for PSP in 2005, designer Tetsuya Mizuguchi, Q Entertainment and Gameloft all agreed to create a version for mobile phones. Lumines Block Challenge was released in May 2006 and features all the main modes from the original as well as extra modes and new skins. It also includes new electronica tracks and high-score leaderboards. The game has been both well-received by critics and has sold well with it topping the mobile gaming charts when it was released.
Controls
[
edit
]
Left: 4
Right: 6
Down: 8
Rotate: 5
Controls can be changed in the Options menu.
Gameplay
[
edit
]
Match up blocks of four, making sure they are the same colour.
The horizontal line will come across the screen and delete the blocks of four.
Make combos by creating bigger blocks of the same colour.
The bar at the bottom will tell you how near or far you are to completing the level.
On boss battles, you must continually create blocks and combos and that will make your screen bigger. You win by capturing all the screen. if you do not create blocks quickly enough, your half of the screen will get smaller.
This is the main mode of Lumines Mobile. Go through all levels to unlock skins and you earn more points on harder difficulty levels. The three difficulty levels are Easy, Normal and Hard. There are also time challenges that give you gold, silver and bronze cups if you complete the level under the allocated time. There are a total of 8 stages and 4 boss battles.
Other Modes
[
edit
]
Challenge: Play the original Lumines and earn new skins.
VS CPU: Make combos to defeat the CPU and earn new avatar(s).
Single Skin: Play on your favourite skin.
Time Attack: Play for a set amount of time trying to beat your highest score. Time allocations are 60 sec, 180 sec, 300 sec and 600 sec.
Puzzle: Copy the shape indicated on the screen.
Shuffle: Unlocked when four different skins have been unlocked. Runs unlocked skins in random order.
Shinin' - Music by Mondo Grosso. Already Unlocked.
Sandstorm Calling - Music by Andy Hunter. Already Unlocked.
Holiday In Summer - Unlock in Arcade Mode.
Mystic Pulse - Unlock in Arcade Mode.
Shake Ya Body - Music by Mondo Grosso. Unlock in Challenge Mode.
Urbanization - Unlock in Challenge Mode.
Doodle King - Unlock in Challenge Mode.
The Spy Loves Me - Unlock in Challenge Mode.
Gallery
[
edit
]