Jump to navigation
Jump to search
This is the first game in the Mafia series. For other games in the series see the Mafia category.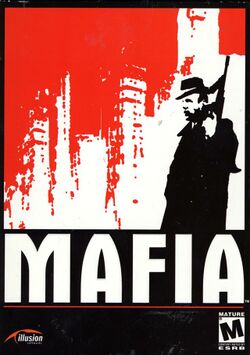 Mafia is a third-person shooter initially made for Windows in 2002 and later ported to the PlayStation 2 and the Xbox in 2004. It was developed by Czech company Illusion Softworks and published by Gathering of Developers. The game allows the player to take on the role of a mafioso who must accomplish various missions in order to advance in the game. It received strong critical reaction and continues to maintain a loyal cult following.
On August 21, 2007, Take-Two Interactive announced the sequel Mafia II at the 2007 Leipzig Games Convention, developed by Illusion Softworks, now renamed 2K Czech. As of September 7, 2010, the game is available via Steam.
Table of Contents