Jump to navigation
Jump to search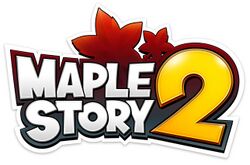 MapleStory 2 (Korean: 메이플스토리 2) is an online computer game that is developed by the South Korean company Nexon. It is a 3D online MMORPG with voxel graphics, using keyboard and mouse controls, with game controller support. It is client-based, which means that you must download the software in order to play the game. MapleStory 2 is completely free to register and play, although there is a "Cash Shop" where players can use real-world money to buy items that aren't available through the in-game currency, Mesos. Although new players may think that MapleStory 2 is only about leveling up and hunting monsters, MapleStory 2 is also a place to socialize. With the Maple Messenger, buddy lists, guilds and houses, MapleStory2 is a typical MMORPG, where users don't always have to hunt monsters and level up; they can take a break and chat whenever and to whomever they like.
The game reintroduces many locations and characters from the original still hugely popular MapleStory franchise. The story takes place in a prequel time period, although the treatment is of a parallel universe with no relation to the gameplay and story of the original MapleStory.
It was released in South Korea on July 7, 2015 after a prior preview period lasting several years.
Versions
[
edit
]
Several versions of the game are made available for specific countries or regions, and each is published by a Nexon local subsidiary or a local distributor. There are localised versions published for South Korea, China, and Japan. All other players play on the Global English version. Each version of the game progresses with different names for their patches, but most of the other versions follow the first version, which is KoreaMS2. Within each version there can be various "worlds" that characters exist in. Characters, items and mesos are not transferrable between worlds. Players are only given a few, say five slots in each world. To have another character slot, players have to unlock the slot, or buy the slot from the Cash Shop. The following is a list of the game versions, their publishers, and their region(s) of interest:
| Version | Publisher | Region(s) | Website |
| --- | --- | --- | --- |
| MapleStory 2 Korea (KMS2) | Nexon | South Korea | |
| MapleStory 2 China (CMS2) | Tencent | China | |
| MapleStory 2 Japan (JMS2) | Nexon | Japan | |
| MapleStory 2 Global (GMS2) | Nexon & Steam | Everywhere where there is not a localized MapleStory version and not under USA embargo | maplestory.com/ms2archive |
Global English Service
[
edit
]
The list of countries that were served by the global English service are listed at https://support-maplestory2.nexon.net/hc/en-us/sections/360000096766-Other
Regional Service Closures
[
edit
]
On March 18, 2020 Nexon announced the discontinuation for the English and Japanese services, which took place on May 27. The Korean and Chinese services are still available.
Table of Contents
Cooperative content
Competitive content